Pro Intelligent Battery Charger 50A - 12V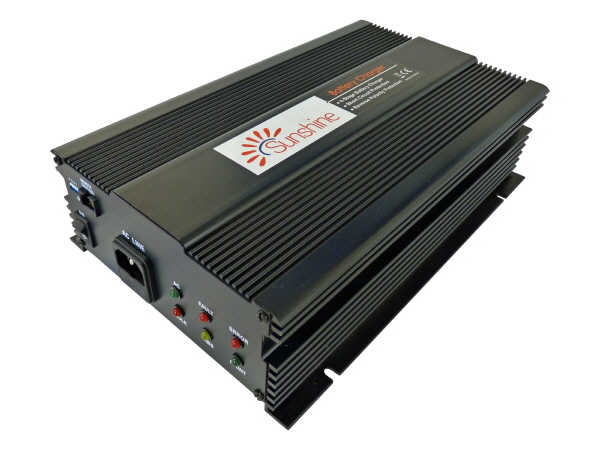 Default Manufacturer
<p><span lang="EN-US">The Sunshine </span><span lang="EN-US">series of switching mode 3 stage (IUoU) chargers is designed for wet, sealed and gel batteries.</span></p> <p><span lang="EN-US">It has 4 selections of bulk (with absorption) charges and 4 float charge voltages making a total of 8 combinations of charging profiles. This is to ensure a safe, fast and complete charge as required by different types of batteries.</span></p> <p><span lang="EN-US">It has 4 selections of charge current (50A, 40A, 30A and 25A)</span></p> <p><span lang="EN-US">Model LCHA50A has an auto operational fan.</span></p> <p>In addition to the standard short circuit, over temperature, reverse polarity protections, it has an OVP (output over-voltage protection) to ensure complete protection of your battery.</p>
LCHA50A
LCHA50A
269.00
Sunshine Solar Limited
https://www.sunshinesolar.co.uk/Item/LCHA50A
Pro Intelligent Battery Charger 50A - 12V
Pro Intelligent Battery Charger 50A - 12V
The Sunshine series of switching mode 3 stage (IUoU) chargers is designed for wet, sealed and gel batteries.
It has 4 selections of bulk (with absorption) charges and 4 float charge voltages making a total of 8 combinations of charging profiles. This is to ensure a safe, fast and complete charge as required by different types of batteries.
It has 4 selections of charge current (50A, 40A, 30A and 25A)
Model LCHA50A has an auto operational fan.
In addition to the standard short circuit, over temperature, reverse polarity protections, it has an OVP (output over-voltage protection) to ensure complete protection of your battery.
Features
3 Stage (IUoU) Switching Mode Battery Charger

4 Selectable Bulk Absorption Charge Settings

-

for Gel, Wet or Lead acid batteries.

4 Selectable and independent Float Voltage Settings

a total of 8 combinations of adaptive 3 Stage Charging profiles for all types of VRLA (sealed),

wet lead acid, SLI (car) and deep cycled lead acid batteries.

The Battery can be connected to the charger indefinitely.

Automatic Soft Start Bulk Charge for a deeply exhausted battery

to ensure safe and gentle charging of heavily depleted deep cycle and car batteries.

LED indicators for Bulk, Absorption, Float, Fault and Power-On

Selectable Charge Current: 50A, 40A, 30A and 25A

Power On/Off Switch

Automatic Fan

Full Charger & Battery Protection

Wide Input Tolerance for fluctuating mains voltage

-

operates well from 190V to 260V.

AC cable fitted with UK plug
DC Cable fitted with terminal rings (length 500mm)
Optimal Battery Capacity Range: 75AH to 500AH
Charger Protection
Overload Protection

Short Circuit Protection

Reverse Polarity Protection (Circuit & Fuse)

Over Temperature Protection

OVP (Output Over-Voltage Protected)

Auto operational Fan
Battery Protection
Over voltage protection, protects the battery from excessive over voltage from the charger output.

Size mm (W x H x D): 195 x 80 x 300
Weight: 3kg

PRODUCT CODE: LCHA50A
Software: Kryptronic eCommerce, Copyright 1999-2020 Kryptronic, Inc. Exec Time: 0.156641 Seconds Memory Usage: 1.352585 Megabytes