520W - 24V Off Grid Solar Starter Kit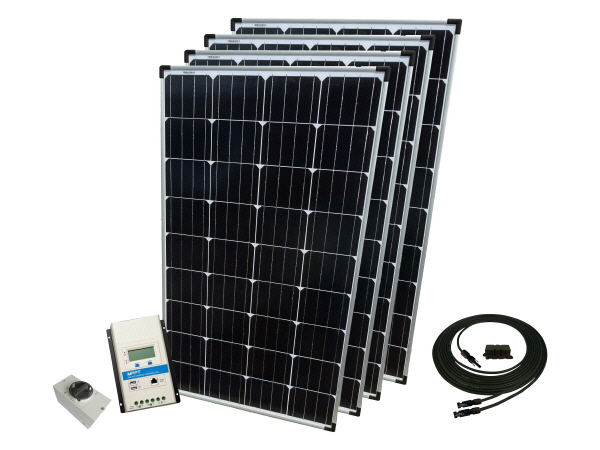 Default Manufacturer
<p>Our 520W off-grid starter kit contains all the component parts for the solar power system. Included are four high performance 130W solar panels, cables, connectors, fuse and fuse holder a DC switch and a state of the art MPPT solar controller. Applications for our 24V off-grid solar systems include, remote location homes in the UK and abroad, home office, summer houses, workshops, static caravans, stables and outbuildings. </p> <p> </p> <p><strong><span style="font-size: medium; color: #ff0000;"><em><em>FREE MAINLAND UK DELIVERY</em></em></span></strong></p> <p> </p>
PK52024NB
PK52024NB
399.00
Sunshine Solar Limited
https://www.sunshinesolar.co.uk/Item/PK52024NB
520W - 24V Off Grid Solar Starter Kit
520W - 24V Off Grid Solar Starter Kit
Our 520W off-grid starter kit contains all the component parts for the solar power system. Included are four high performance 130W solar panels, cables, connectors, fuse and fuse holder a DC switch and a state of the art MPPT solar controller. Applications for our 24V off-grid solar systems include, remote location homes in the UK and abroad, home office, summer houses, workshops, static caravans, stables and outbuildings.
FREE MAINLAND UK DELIVERY
WEEKLY SPECIAL ....... ENDS 27TH SEPTEMBER 2021
Using the power of the sun and a state of art MPPT controller that intelligently regulates the working voltage of the solar panel this system can deliver approximately 87Ah on a 24V system per day during the summer months.
This kit is ideal for customers who already possess 12 VDC batteries, if required batteries and power inverters can be added to the cart from the Often purchased together items.

Features
4 x Sunshine Solar Panels 130W Monocrystalline
1 x MPPT Solar Regulator/Controller 20A 12V/24V with Display
1 X DC Disconnect Switch (1 string)
1 x 10m Solar Panel Extension Cable with MC4 Connectors (4mm)
1 x 1m Fuse Kit 20A - Controller to Batteries (4mm)
Solar Panel Specifications
Product Code. SSP1320M
Max Power. 130W ± 3%
Max Power Voltage. 17.06V
Max Power Current. 6.80A
Open Circuit Voltage. 21.7V
Short Circuit Current. 7.08A
Normal Operating Cell Temp. -45 to 80°C
Max System Voltage. DC1000V
Weight. 8.25 Kg
Dimensions. 664 x 1179 x 35mm
Solar Panel - Guaranteed Performance
5 Years Manufacturers Warranty
10 Years Warranty 90% Power Output
20 Years Warranty 80% Power Output
PRODUCT CODE: PK52024NB
£623.99
£592.79
(Save 5%)
Software: Kryptronic eCommerce, Copyright 1999-2021 Kryptronic, Inc. Exec Time: 0.053172 Seconds Memory Usage: 1.392845 Megabytes