Ritar 150Ah - 12V Lithium Leisure Battery LiFePO4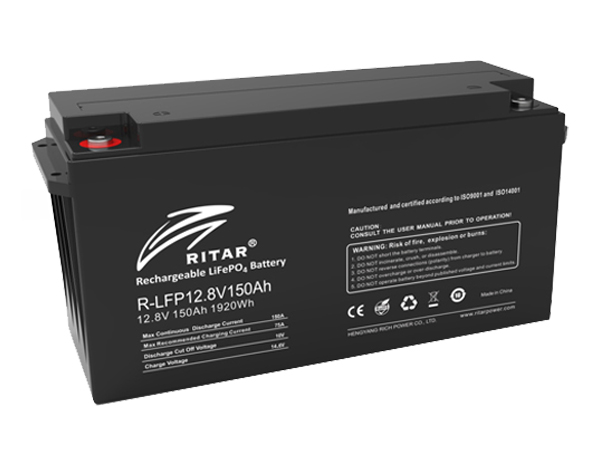 Default Manufacturer
The RI_LFP12150 lithium battery utilises lithium iron phosphate technology which produces a significantly better depth of discharge and number of cycles than conventional lead acid batteries. It is also up to 50% lighter than lead acid batteries, completely maintenance free and has built in protection against overcharging, high current and high temperature. Applications of this battery include:- Caravans & leisure use Solar & wind powered systems UPS systems Golf carts Electric vehicles
RI_LFP12150
RI_LFP12150
995.00
Sunshine Solar Limited
https://www.sunshinesolar.co.uk/Item/RI_LFP12150
Ritar 150Ah - 12V Lithium Leisure Battery LiFePO4
Ritar 150Ah - 12V Lithium Leisure Battery LiFePO4
The RI_LFP12150 lithium battery utilises lithium iron phosphate technology which produces a significantly better depth of discharge and number of cycles than conventional lead acid batteries. It is also up to 50% lighter than lead acid batteries, completely maintenance free and has built in protection against overcharging, high current and high temperature.
Specifications

| | |
| --- | --- |
| Voltage | 12.8 Volts |
| Technology | Lithium |
| Capacity (C20) | 150 Ah |
| Length | 483 mm |
| Width | 170 mm |
| Height inc. terms | 241 mm |
| Weight | 20 kg |
Features
Using the technology of lithium iron phosphate cell, superior safety, over 3000 cycles @ 80% DOD, under normal conditions
Built-in automatic protection for over-charge, over discharge, over current and over temperature
Free of maintenance
Internal cell balancing
Lighter weight: About 40% ~50% of the weight of a comparable lead acid battery.
Applications
Caravan/Motorhome & Leisure

UPS Systems



Solar & Wind Power System
Golf Cart
Electric Vehicle
Lighting
SAFETY

LiFePO4 cells, high consistency, long cycle life and much safer.
UN38.3, CE certification.
DESIGN
ABS case.
Fast charge performance. l -20~+55° C widely temperature range.
Maintenance free.
BATTERY MANAGEMENT SYSTEM
Integrated hardware BMS inside.
Independent protection for charge and discharge.
Over voltage, low voltage, over temperature and short circuit protection.
PRODUCT CODE: RI_LFP12150

Software: Kryptronic eCommerce, Copyright 1999-2022 Kryptronic, Inc. Exec Time: 0.052558 Seconds Memory Usage: 1.260468 Megabytes