Multi-Buy 150W Solar Panels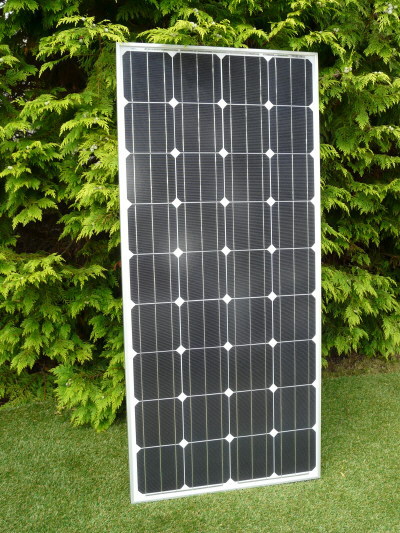 Default Manufacturer
<p>Our 150W solar panel is the most powerful of the Sunshine Solar range for 12V battery charging if you are looking for faster power generation this solar module will deliver. The high wattage output combined with high efficiency monocrystalline cells make this solar panel of particular interest for motorhome uses, static caravans, mobile homes, live aboard boats where larger power requirements are generally required.</p>
SSP150MB
SSP150MB
498.00
Sunshine Solar Limited
https://www.sunshinesolar.co.uk/Item/SSP150MB
Multi-Buy 150W Solar Panels
Multi-Buy 150W Solar Panels
Our 150W solar panel is the most powerful of the Sunshine Solar range for 12V battery charging if you are looking for faster power generation this solar module will deliver. The high wattage output combined with high efficiency monocrystalline cells make this solar panel of particular interest for motorhome uses, static caravans, mobile homes, live aboard boats where larger power requirements are generally required.
Multiple Buy Discounts
2 for £249 each, 3 for £240 each, 4 for £228 each + FREE UK MAINLAND DELIVERY
With a Sunshine 150W solar panel you could expect to generate around 42 amps per day when used in conjunction with a PWM solar charge controller and around 50 amps per day with an MPPT solar controller during the summer months. Multiple panels can be connected to acquire higher power if needed.

Specifications
Product Code. SSP150M
Max Power. 150W ± 3%
Max Power Voltage. 18.10V
Max Power Current. 8.31A
Open Circuit Voltage. 22.40V
Short Circuit Current. 8.66A
Normal Operating Cell Temp. -45 to 80°C
Max System Voltage. DC1000V
Weight. 11.2Kgs
Dimensions. 670 x 1475 x 35mm
Features
900mm of 4mm single-core cable fitted with MC Type 4 Connectors
High Performance Monocrystalline Cells
Factory fitted aluminium frame with pre-drilled mounting holes
Multiple pieces can be connected to acquire higher power
Suitable for charging all types of 12 volt batteries
Fitted with bypass diodes to minimise the effect of shading
Completely weatherproof
Guaranteed Performance
5 Years Manufacturers Warranty
10 Years Warranty 90% Power Output
20 Years Warranty 80% Power Output
Please Note: Multiple solar panels system will require a higher spec solar controller if you are unsure which you require or have any other questions please call 01508 488188 then Option 2 for Technical.


PRODUCT CODE: SSP150M
Software: Kryptronic eCommerce, Copyright 1999-2021 Kryptronic, Inc. Exec Time: 0.042881 Seconds Memory Usage: 1.310898 Megabytes