Sunshine Solar Briefcase Charger Amorphous 13 Watt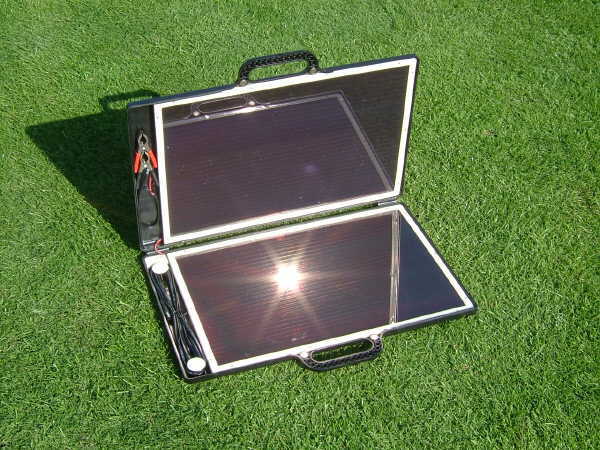 Default Manufacturer
<p>Powerful, compact and very versatile. Ideal for caravans, yachts, electric hand tools, DC fridge, notebook computers, GPS systems. Supplied with many connectors for different applications, our briefcase chargers are perfect for applications when on the move, there briefcase style case gives them excellent protection when not in use.</p>
SUN004
SUN004
79.00
Sunshine Solar Limited
https://www.sunshinesolar.co.uk/Item/SUN004
Sunshine Solar Briefcase Charger Amorphous 13 Watt
Sunshine Solar Briefcase Charger Amorphous 13 Watt
Powerful, compact and very versatile. Ideal for caravans, yachts, electric hand tools, DC fridge, notebook computers, GPS systems. Supplied with many connectors for different applications, our briefcase chargers are perfect for applications when on the move, there briefcase style case gives them excellent protection when not in use.
Features
Size: 330mm x 520mm x 40mm
Weight: 4.2kg
With adjustable support panel, helps to maximise power output
With blinking charge indicator
Includes male & female cigarette lighter connections
3M of cable fitted with S-S type connector
Blocking diode to prevent reverse charging
Please Note:
If you are planning to leave the Briefcase Charger connected to a battery for long periods we recommend that our plug and play Sunshine Charge Regulator 12V - 7AMP is used.
Save Money..... on accessories when you purchase them with this product.

PRODUCT CODE: SUN004


Software: Kryptronic eCommerce, Copyright 1999-2021 Kryptronic, Inc. Exec Time: 0.05103 Seconds Memory Usage: 1.364891 Megabytes