Sunshine Solar & Wind Power Kit 208W - 12V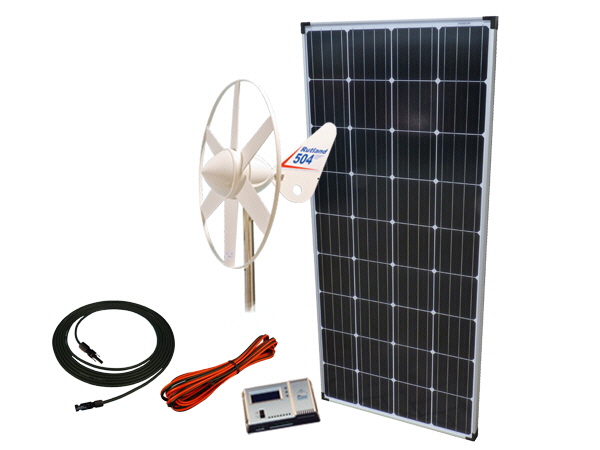 Default Manufacturer
<p>Utilise two natural resources with the Sunshine Solar and Wind Power kit. With a maximum power output of 208W 12V this power kit has numerous uses from motorhome, boats, and caravans to remote location buildings. The HRDi Solar and Windcharger controller supplied with this kit features latest technology for charge regulation of one or two seperate battery banks from small Rutland wind turbines and solar panels.</p> <p>"Best of all<strong> Save money </strong>on all package deals"</p>
KITSW2
KITSW2
680.00
Sunshine Solar Limited
https://www.sunshinesolar.co.uk/Item/KITSW2
Sunshine Solar & Wind Power Kit 208W - 12V
Sunshine Solar & Wind Power Kit 208W - 12V
Utilise two natural resources with the Sunshine Solar and Wind Power kit. With a maximum power output of 208W 12V this power kit has numerous uses from motorhome, boats, and caravans to remote location buildings. The HRDi Solar and Windcharger controller supplied with this kit features latest technology for charge regulation of one or two seperate battery banks from small Rutland wind turbines and solar panels.
"Best of all Save money on all package deals"
Solar Panel Specifications

Maximum Power (Pmax): 160W
Maximum Power Current (Ipm): 8.31A
Maximum Power Voltage (Vpm): 18.1V
Short Circuit Current (Isc): 8.66A
Open Circuit Voltage (Voc): 22.4V
Nominal Operating Cell Temp. (NOCT): -45 to 80°C
Maximum System Voltage: DC1000V
Size: 1470mm x 670mm x 35mm
Weight: 11.20kg
Rutland 504 Windcharger Specifications
Cut in Windspeed. 3 m/s
Output Voltages Available (Nominal). 12V
Packed Weight & Dimensions. 6 Kg 550x550x260mm
Generator Type. Low friction 3 phase, brushless
Yaw Rotation. Slipring for 360° free rotation. Low brush wear.
Turbine Diameter. 510 mm
Turning Radius. 304 mm
Net Weight. 3.5 kg
Wind Power / Current Ratings:
5m/s 10knots. 3W(0.2A)
11m/s 21knots. 29W(2.1A)
15m/s 29knots. 48W(3.4A)
Pole mounts available at extra cost.


PRODUCT CODE: KITSW2
Software: Kryptronic eCommerce, Copyright 1999-2022 Kryptronic, Inc. Exec Time: 0.07229 Seconds Memory Usage: 1.290115 Megabytes