2000W - 24V Modified Sine Wave Sunshine Power Inverter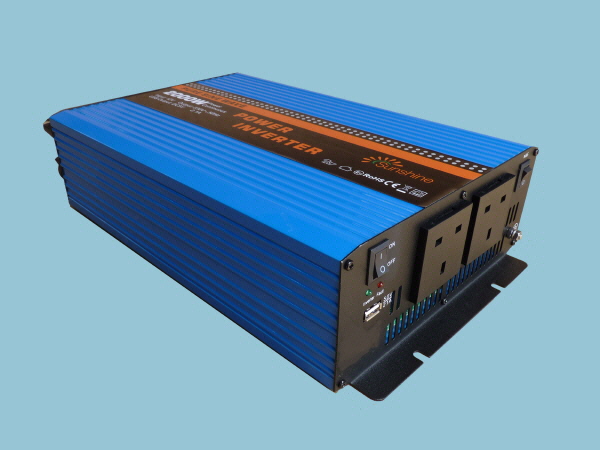 Default Manufacturer
<p>Sunshine inverters are a very high grade and this product is supplied with heavy duty leads fitted with terminal rings for easy connectivity to your battery.</p> <p>Numerous uses for off grid installations large and small, whether it be in the home, outbuildings, caravan, motorhome, car, truck or boat the Sunshine range of inverters give you a 230V power supply wherever you need it. </p>
VM200024
VM200024
289.00
Sunshine Solar Limited
https://www.sunshinesolar.co.uk/Item/VM200024
2000W - 24V Modified Sine Wave Sunshine Power Inverter
2000W - 24V Modified Sine Wave Sunshine Power Inverter
Sunshine inverters are a very high grade and this product is supplied with heavy duty leads fitted with terminal rings for easy connectivity to your battery.
Numerous uses for off grid installations large and small, whether it be in the home, outbuildings, caravan, motorhome, car, truck or boat the Sunshine range of inverters give you a 230V power supply wherever you need it.
Sunshine power inverters have advantages of being compact, light weight, & low noise, once connected to a 24V battery, you get 230V AC directly from the power inverters UK output sockets giving you a stable power supply for running your electrical appliances.

FEATURES
Dual AC Outlets
Over-temperature protection
Low battery voltage alarm
Low battery voltage shutdown
High battery voltage shutdown
Overload protection, short circuit protection, polarity reverse connection protection
Specifications
2000W Modified sine wave power inverter
Output waveform: Modified sine wave inverter
Continuous power: 2000watt
Surge power: 4000Watt
Input volt: 20-30V DC
Output volt: 230
Frequency: 50Hz
Efficiency: >86%
Dimension (L*W*H): 330*220*85mm
Weight: 2.6KG
Certification CE-EMC/LCD RoHS
PRODUCT CODE: VM200024
Software: Kryptronic eCommerce, Copyright 1999-2022 Kryptronic, Inc. Exec Time: 0.050713 Seconds Memory Usage: 1.291428 Megabytes